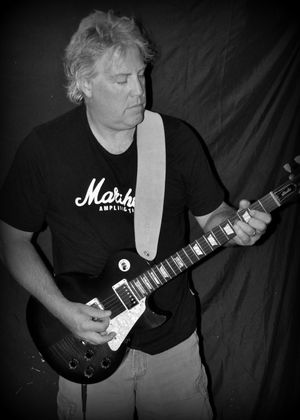 Tim is a Canadian Musician residing in the Prairie City of Calgary, Alberta. Originally from Southern Ontario he has seen both sides of the Canadian landscape and has a lot of exposure to the US having grown up on the New York State border. Music was a large part of his life from an early age. 
Although Tim's music is Guitar-Centered it manages to cover more than one genre. Roots Rock, Classic Rock, Folk Rock, Blues Rock, Alternative Country, Americana, and AAA have all been associated with this music. He has no borders or script to follow. A review long ago mentioned that his music was "Too Rock For Country And Too Country For Rock'n Roll". That accurate assessment puts his music into a category that is as wide as it is intriguing. 
Who does he sounds like? It's fair to say that he doesn't sound like one particular artist. He sounds like Tim Bertulli! After independently releasing 8 CD's, it's fair to say that he's forged his own sound. Of course there are snapshots and reminders of others in his work but, in the end, it's his own sound. Tim says, "I certainly didn't invent what I'm doing so it's fair to say that I've had a lot of favourite musicians over my time, and that some of the things that have made them popular may appear in my music." That's an eloquent way to say that his music is a melting pot of a lot of things, but in the end it's still him. 
His voice has been likened to Bruce Springsteen, Eddie Vedder, Jame Hetfield, and Bryan Adams. His writing has been compared to Mellencamp, Springsteen, and James McMurtry. His playing is reminiscent of Dicky Betts, Warren Haynes, Ace Frehley, and James Taylor. That's a whole lotta Mojo and helps illustrate that there is a wide range of music in his catalogue. 
Reviews have included comments such as "...If Bruce Springsteen had a Jones for Classic Country this would be it...", "...You can here the Rock, solid as boulders, in his husky deliver...", "...Instead of hearing voices that reflect life's long, hard roads and lyrics that sing words of wisdom, we often get mindless adolescent gibberish. It leaves the door closed on powerful talent like Canadian Roots Rocker Tim Bertulli...", "...You have to admire the guy's commitment to his art. Like Neil Young, Bertulli writes songs for himself..." 
Tim typically writes songs that analyze situations. He's not a Story-Teller, a manic depressive, a love-struck fool, nor a bitter imparted soul who thinks anything and everything about the world is against him. His songs seem to be about situations ( whether it's himself or someone else? ), how it breaks down, and how he comes out the other end that much better for it. He seems to keep-on keeping-on, ya know? 
A general theme to the music is the everyday minutia, how we face the issue, deal with it, and move on. As Tim says, "Lets face it, your mind is the only thing you have to satisfy when you're faced with any sort of confrontation or mental torment. Your justifications are what get you through your day. If you don't satisfy this starving animal then you head off the deep-end. We all face it and deal with it. I just try to present it in way that's not gushy-gushy-teeny-heartthrob or gimme-a-gun-cuz-the-whole-world-hates-me". That folks, sounds like someone who has something to get off his mind!